LOCATION:
52/7 Moo8 Thambol Lahan, Ampher Bangbuathong, Nonthaburi 11100

OWNER:
Mr. Suchai Wanglert

CAPITAL:
30,000,000 Baht

ESTABLISHED:
1975

SITE AREA:
22,400 sq.m. (14Rai)

WORKSHOP SPACE:
20,000 sq.m.

TELEPHONE:
+ (66 2) 925 5055-64

FACSIMILE:
+ (66 2) 925 5202

EMAIL:
info@lersakstainless.com

HOMEPAGE:
www.LersakStainless.com




Company's Scope of Operations:
We, Lersak Stainless, are a quality manufacturer of stainless steel material handling equipment. Our skills lie in the fabrication of stainless steel as well as other steel materials.

Our experience in the field began accumulating over 2 decades ago. Over time, the range of services and products grew while quality was constantly improving. Today, clients have every reason to feel confident that Lersak's expertise will be able to address their industrial needs in various fields such as food, chemicals, dairy, beverage, brewery, cosmetics, construction, pharmaceutical, to name a few.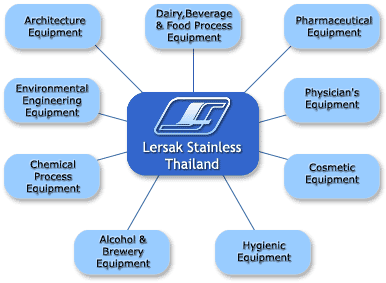 Lersak Stainless Today:
A far cry from its humble beginning, today's Lersak is staffed with experienced personnel and state-of-the-art facilities that stand ready to provide customers with solutions to all kinds of tasks while maintaining the highest quality standard imaginable.

Lersak also delivers excellent value for your money. Amidst the economic downturn and an increasingly intense competitive atmosphere, we understand our client's needs for more economical manufacturing solutions. It is this very mixture of great product quality, services, timely operation, and favorable prices that keeps our customers coming back time and again.