Lersak Stainless (Thailand) Co., Ltd. is an original equipment manufacturer serving a large number of processing industries. Lersak offers cost-effective solutions to processors' needs for high-end production facilities. Our equipment and complimentary facilities, backed by skilled engineers and plant assembly technicians provide efficient production operations for various kinds of product.

Please do not hesitate to contact our representative today.

With Lersak's 25 years of experience, a competitive solution for your business needs is only a phone call away!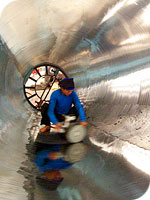 Lersak Stainless has accumulated over 25 years of experience on a wide range of materials, including stainless and carbon steel, hastelloy, and aluminum.

The breadth of our capabilities is unique. Each facility offers an all-round combination of design, machining, and fabrication that can handle jobs of varying sizes with outstanding efficiency. Lersak Stainless can meet the demand of most applications in the market.

Company's particulars:
- 22,400 square meters of facility space
- 105 employees
- experienced engineering and production teams with certification in AIS, ASME, API, and Structural codes

Lersak Stainless is best known for a wide variety of applications such as clean-in-place systems, jacketed tanks, rotary valves, compressed air-piping systems, liquid cyclones, screw conveyors, condensers, liquid scrubbers, steam piping systems, cure ovens, mixers, storage tanks, deionization piping disperser, mixing tanks, silos, distilled water systems, pasteurizing systems pressure vessels, tanks, dust-collecting systems, process controls, tanker trucks, filters, platforms, vacuum mixing tanks, heat exchanger homogenizers, reaction tanks, hoppers, ribbon mixers, and insulation piping systems.





Lersak Stainless strives to serve both the domestic and international markets. Superior product quality and favorable prices have attracted many repeat customers from countries such as USA, Germany, China, Laos, Malaysia, Myanmar, and Vietnam.

Lersak Stainless specializes in engineering design and consultation services, machinery, processing equipment, as well as manufacturing know-how for complete plants in various industries, including dairy, beverage, brewery, cosmetics, pharmaceutical, and chemicals. Our reputation in the quality standards for applications in these industries is unsurpassed. Lersak also travels the distance to serve our customers with special services such as product customization to suit their individual needs.

Quality Control Systems:
At Lersak, we stress the importance of strict adherence to the ASME and pressure vessel codes throughout the design, manufacturing, inspection, and testing processes to ensure total quality and reliability of its products before they go into the hands of our valued customers.